Restore your smile and confidence for a lifetime.
WHO NEEDS DENTAL IMPLANTS?
You should consider getting dental implants if you are:
Missing Tooth/Teeth
Have Damaged Root(s)
Have Pain From Teeth & Mouth
Have Chewing Difficulties
Have Speaking Difficulties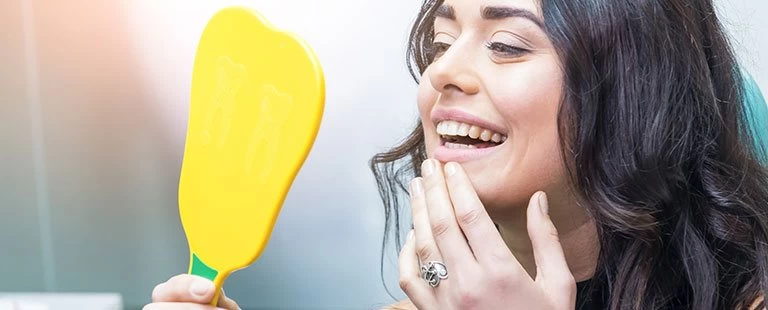 HOW IMPLANTS BENEFIT YOU:
Dental implants will greatly help improve your quality of life by:
Replacing Your Missing Tooth/Teeth
Replacing Root of Teeth
Restoring Your Smile
Restoring Your Confidence
Having Custom Made Implants Just For You
We know one size doesn't fit all, everyone's body is different, and have our personal preferences. We accommodate our patients with a variety of dental implant procedures to choose from.
All-On-4® Dental Implants
All-On-4® is a revolutionary implant procedure that permanently replaces all of your teeth in the upper or lower dental arch, or both. This particular treatment option provides you with not only a natural-looking restoration but also a durable one that can last a lifetime! 
Traditional full-arch replacement procedures use between six and eight implants, whereas the All-On-4® system only uses four implants. Plus, traditional procedures typically only place few implants at a time, which means that your treatment can end up being as long as 18 months, during which you have to about your life with an incomplete smile. At our practice, we believe that our patients should receive the care they need right away so they can enjoy the benefits of a healthy, complete smile. 

Benefits of the All-On-4® treatment :

Less invasive by using only four implants
All implants are placed at once, so you only need one surgery
Your dental restoration is attached to your implants at the time of surgery, so you do not have to leave our office without a complete smile
Customized dentures and restorations for a natural-looking smile
Less expensive than other treatments that require more implants

We are proud to utilize advanced dental technology to help us provide our patients with more efficient and comfortable treatments. This treatment utilizes computer software and computed tomography (CT) 3D imaging to aid in the placement of the implants. 
This helps to ensure that we achieve accurate, optimal placement for a tooth replacement that is strong and long-lasting. As a result, your implant has a greater success of integrating with your jawbone and lasting a lifetime. An implant is an artificial tooth root that is surgically placed in the jawbone at the location of the missing tooth. By replacing the missing tooth root, the implant provides a stable foundation for the replacement tooth and ensures that the restoration is lasting and lifelike. After the placement of the implant post, our dentist attaches a restoration such as a dental crown, dental bridge, partial denture, or complete denture on top to fully restore your smile's health, appearance, and function. You will be able to chew and eat comfortably, speak clearly, and smile confidently.
Implant-Supported Dentures
If you are missing most or all of your teeth in a dental arch, or if you have a set of dentures that does not quite fit right, we offer implant-supported dentures. This procedure combines the durability and stability of dental implants with the full-arch replacement of dentures.
Implant-retained dentures are very similar in form to traditional dentures; however, they are stabilized by dental implants. Very often denture wearers complain that dentures become loose and "float" around the mouth, limiting their ability to eat and speak comfortably. Implant dentures are a cost-effective solution, and in many cases, we can actually retrofit an existing denture with implants. The first step in anchoring your denture with dental implants is the placement of the implants. The implants, which are similar in appearance to screws, are surgically inserted into the jawbone in order to securely anchor your denture. While the specific number of implants required will depend on your individual needs, most cases require 4-6 implants per denture. Once the implants have been placed and allowed sufficient healing time, your denture is attached on top. This provides your denture with exceptional stability. In fact, many patients report that their implant-retained dentures feel and function more like their natural teeth.
Linda's Implants Experience
Surgical Implant Placement
Implants are an innovative way to replace missing teeth, and our team at Wausau Smiles is pleased to offer several implant treatments for our patients. Each implant is surgically placed, and our dentist, Dr. Aaron Bushong, has the training and experience necessary to ensure that your treatment is successful. 
Implants are a type of dental restoration that can be used to replace a single missing tooth, several missing teeth, or an entire dental arch. An implant is made up of three parts: the post, the abutment, and the restoration. The implant post is surgically inserted or placed, into the jawbone where the missing tooth once stood. This post replaces the tooth's roots and provides a more stable and permanent foundation for your restoration. Once the implant is properly inserted, the abutment is placed on top, which then attaches to the restoration, which is typically a crown, bridge, or denture.

Prior to the implant placement procedure, our dentist will evaluate your mouth and supporting structures to determine the right place and angle to insert the implant post. If your jaw bone is insufficiently strong to hold an implant, our dentist may recommend a bone graft prior to your implant surgery. This will strengthen your jaw bone and increase your chances of having a successful implant treatment.

For the implant procedure, our dentist will begin by cutting open the gum tissue over and around the area of the missing tooth. This will expose the bone underneath. Next, we will drill a hole in the jaw bone that is big enough to fit the implant post. The post is inserted deep into the bone, as it is replacing the tooth's natural roots and needs to provide sufficient support. Once the implant is inserted, you will have a healing period to let the implant post integrate with the jaw bone. Afterwards, we will attach your restoration to complete your treatment.